The best hot spring in Japan
Let's state the fact: I love Japanese hot springs, onsen. I also love sento; the communal, public bath houses which you can find in most Japanese cities and towns. I love the ofuro hot tubs in Japanese apartments. I actually love bathing in Japanese style so much, that me and my husband even decided to decorate our Finnish home's bathroom with a deep, Japanese style sitting tub, and a moody, natural wibe of traditional Japanese bath houses.
When ever I travel to Japan, I try to put atleast a few hot spring visits on my agenda. If I stay mostly in the city of Tokyo, I'm usually quite limited in options, but if I travel around different parts of Japan, there are amazing possibilities to choose from.
In the past I've had amazing hot spring experiences; I've bathed while snow has fallen on my skin, I've dipped myself into the hot waters under a starry sky, I've looked at the calm sea while sitting in an rotenburo, I've tested out so many different healing muds and mineral waters, that I guess I should write another article just about the water types of Japanese hot springs. There are so many beautiful hot spring towns and breath-taking, traditional hot spring ryokan hotels in Japan, that it is quite difficult to pick number one. But if I must pick the best onsen experience in Japan I have had, it would be Kurokawa Onsen in the island of Kyushu.
In this blog post, I'll share you why this is my favourite onsen so far.
THE BEST ONSEN IN JAPAN
Hotspring town Kurokawa Onsen, Kumamoto, Kyushu
Kurokawa is a small town located on the island of Kyushu, in Kumamoto prefecture. The hot spring town is small, sleepy place that is perfect for meditative holiday break, where you just enjoy the amazing nature sceneries and the healing hot waters pumped up from the depths of Earth. The town is built on the banks of deep, dark, cerpentine shaped Kurokawa river. The Japanese style wooden bridges cross the river here and there, giving the town quite a traditional look.
The mountain area with old forests near Kurokawa is very beautiful and great for hiking. Also the bus routes to Kurokawa are very scenic. I highly recommend taking bus to Beppu or Yufuin cities, as the route between Kurokawa and Yufuin is amazingly beautiful. We arrived to Kurokawa from Beppu via Yufuin by bus and took a bus from Kurokawa to Fukuoka. As long as you just reserve the bus beforehand, it is quite convenient way to arrive to Kurokawa – that being said, be aware that the buses in the area don't operate too frequently, so there are only couple of options a day for you to select.
What's best about Kurokawa:
The Japanese mountain nature surrounding the town from every direction
The beautiful river flowing through the village
Tranquil, small town feel
The most amazing ryokan hotels in Kurokawa are located right by the river stream
The cute tiny restaurants and cafés with local products to try out
The scenic road to reach Kurokawa from Beppu or Fukuoka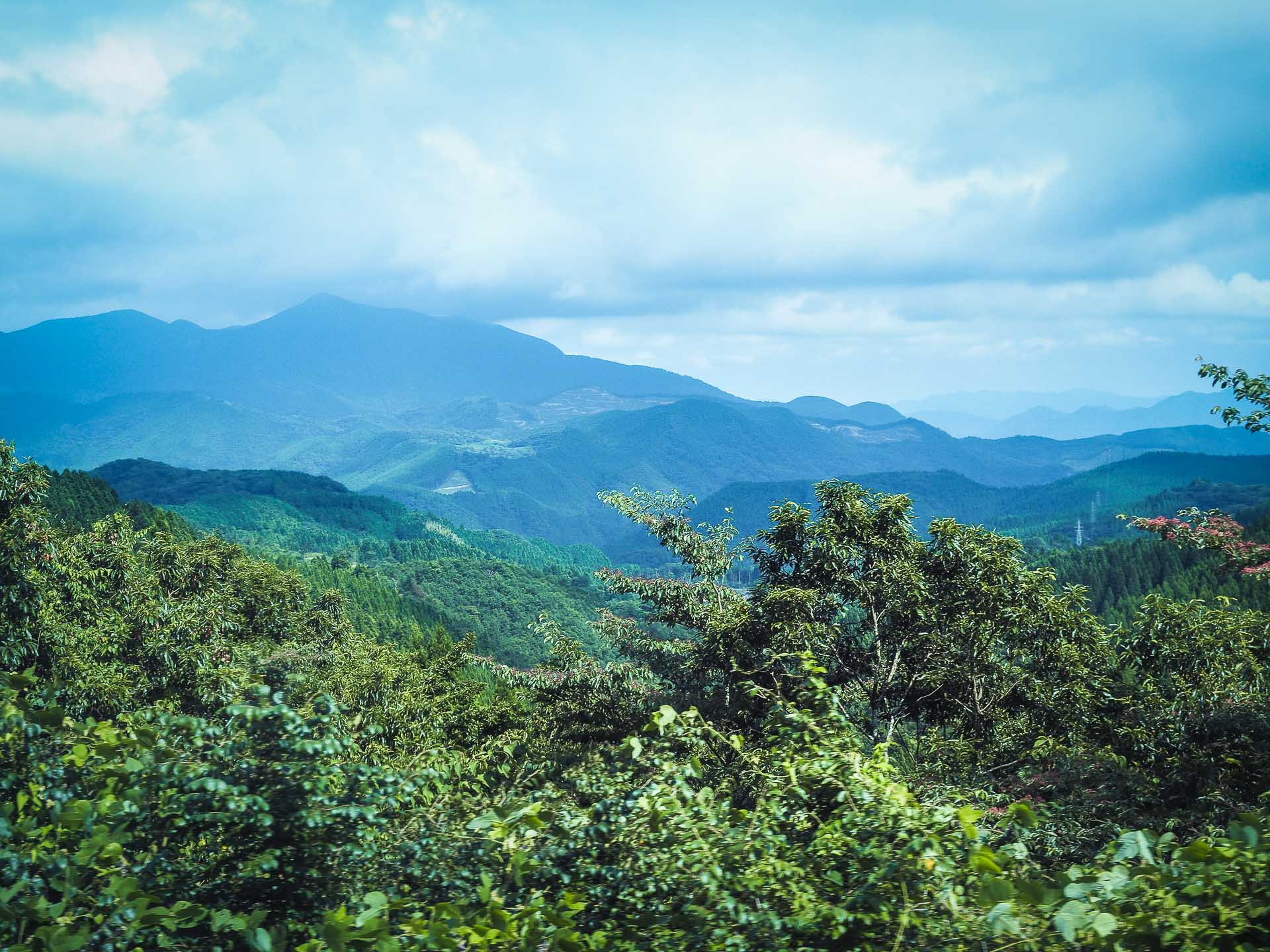 THE BEST HOT SPRING HOTELS IN KUROKAWA
Even if the hot spring town would be amazing, the whole experience is really mostly about the hotel you stay at. Picking up only one best ryokan hotel at Kurokawa just was not possible for me – It was not possible for me while I was booking the hotels for our trip either. Thereore I recommend you to do, what we did; book both and stay 2-3 nights at these two amazing hotels. You'll get to experience pampering you've propably  two lovely hot spring outdoor baths.
Yamamizuki, Kurokawa
Yamamizuki is one of the more luxurious, yet traditional onsen hotels I have been to. The architecture is amazingly beautiful inside-out. The garden outside the hotel buildings is very beautiful and all the decor and interior design around the hotel is just gorgeous. There are ikebana flower arrangements placed on the window benches and tiny tables here and there in the corridors and some fresh flowers decorate even the rooms. The sliding doors and washi paper walls in the hotel room make your stay feel very Japanese one.
Upon your arrival to your room you're poured green tea and you get to enjoy some traditional Japanese sweets. You get to choose your meal time already during the booking, so most likely you will soon after your arrival go and have an amazing dinner. Dinner is a true kaiseki style culinary experience with so many small dishes, cups and meals that you will loose the count in no time. While you're enojoying your delicious meal, the staff goes and makes your futon beds ready for the night in the room.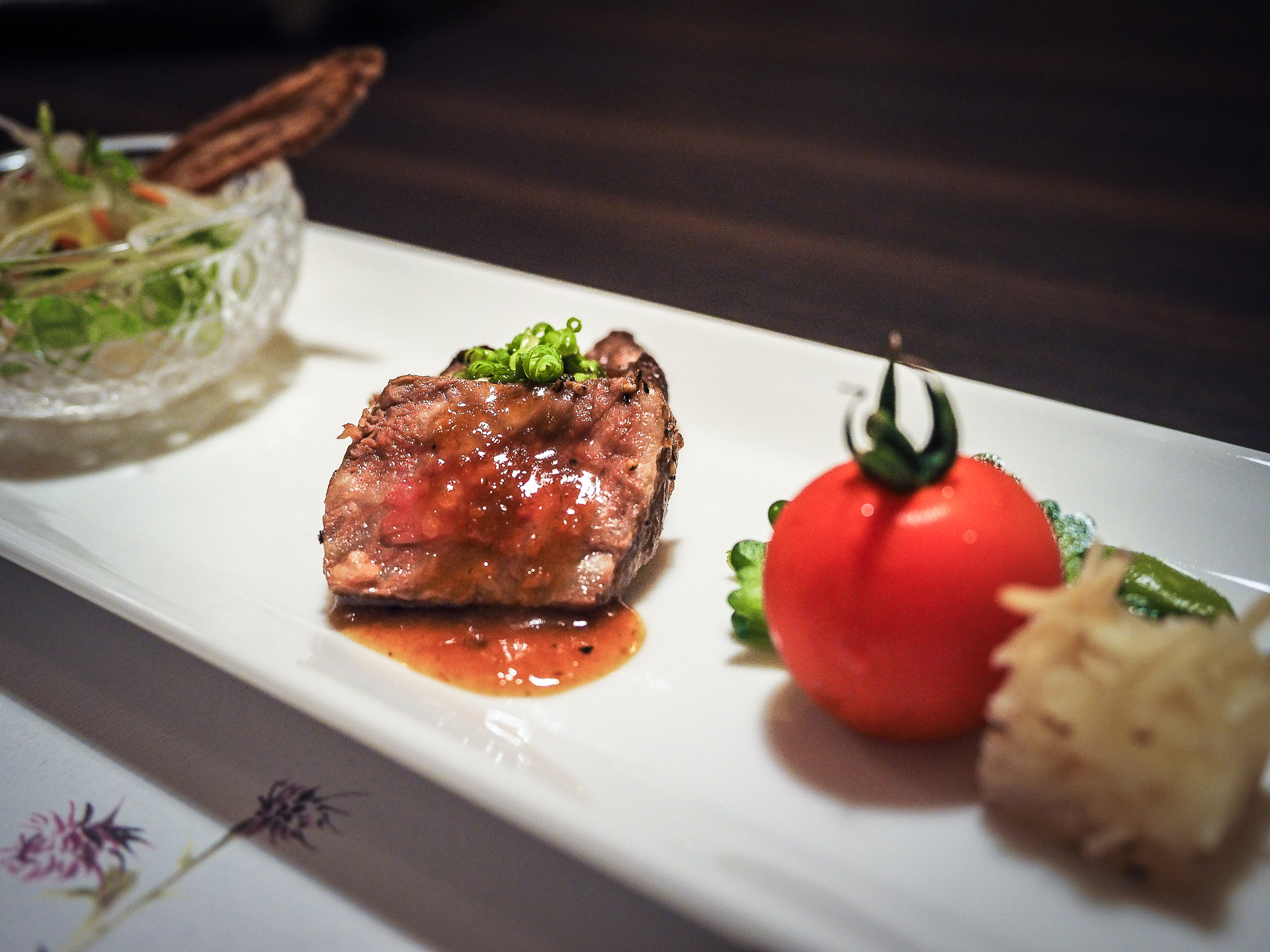 After the meal it is time for what you're there for: the amazing hot spring baths. There are separate men's and women's baths, which are both something to look forward to. The indoor bathing facilities have nice stone made baths, wooden tubs, and a spacey shower area. The hot springs outdoors are located right beside the Kurokawa river, so while you're sitting in the hot water, you get to look at the beautiful green scenery and listen to rushing river. The place is completely surrounded by nature – the singing birds and cicadas in the summer time make it all very magical. When I was walking from womens' bathing house to the outdoor bath, rotenburo, I even saw an otter swimming upstream in the river. The outdoor baths are made from natural stone and there is also nice little wooden pergola if you want a roof over your head on a rainy day.
What's best about Yamamizuki hotel:
The outdoor hot spring baths are located right by the river and surrounded by lush greenery
Very natural and traditionl, yet luxurious experience
Indoor baths are comfortable and spacious
Very beautiful hotel premises with attention put to details and flower arrangements
Located right by the river: many rooms have a river view with a small balcony
Very spacious traditional rooms with sliding doors and tatami mats
Very comfortable and stylish yukatas (Japanese light cotton made clothes for sleeping and hanging around at the hotel premises)
Amazing Japanese kaiseki-meals are included in the room price
Nice small café and mini shop at the premises
Book Yamamizuki
Ryokan Sanga, Kurokawa
Ryokan Sanga is a very high quality ryokan hotel with dark, wooden, Japanese style architecture and beautiful traditional rooms with tatami mats and futon bedding. The whole place feels very secluded and quiet, as it is located a bit further away from Kurokawa town center. No worries though, as the driver of the hotel will pick you up or take you to your bus stop when needed – no charge.
The main building and multiple bathing facilities are scattered amonst the trees, making the place feel like an old, tiny village. The little paths and cute wooden signs guide the guests to the outdoor hot spring baths. Those offer perhaps the most natural Japanese bathing experience I've ever had. You leave your belongings behind in a basket and find yourself showering (naked, of course) in the wild; unlike in the most hot springs hotels, here the shower is located outdoors beside the baths. The facilities are very, very simple – I must warn you – but showering and bathing totally outdoors under the sky in such beautiful surroundings is something else! The endless greenery and the river flowing by make a very meditative bathing moment.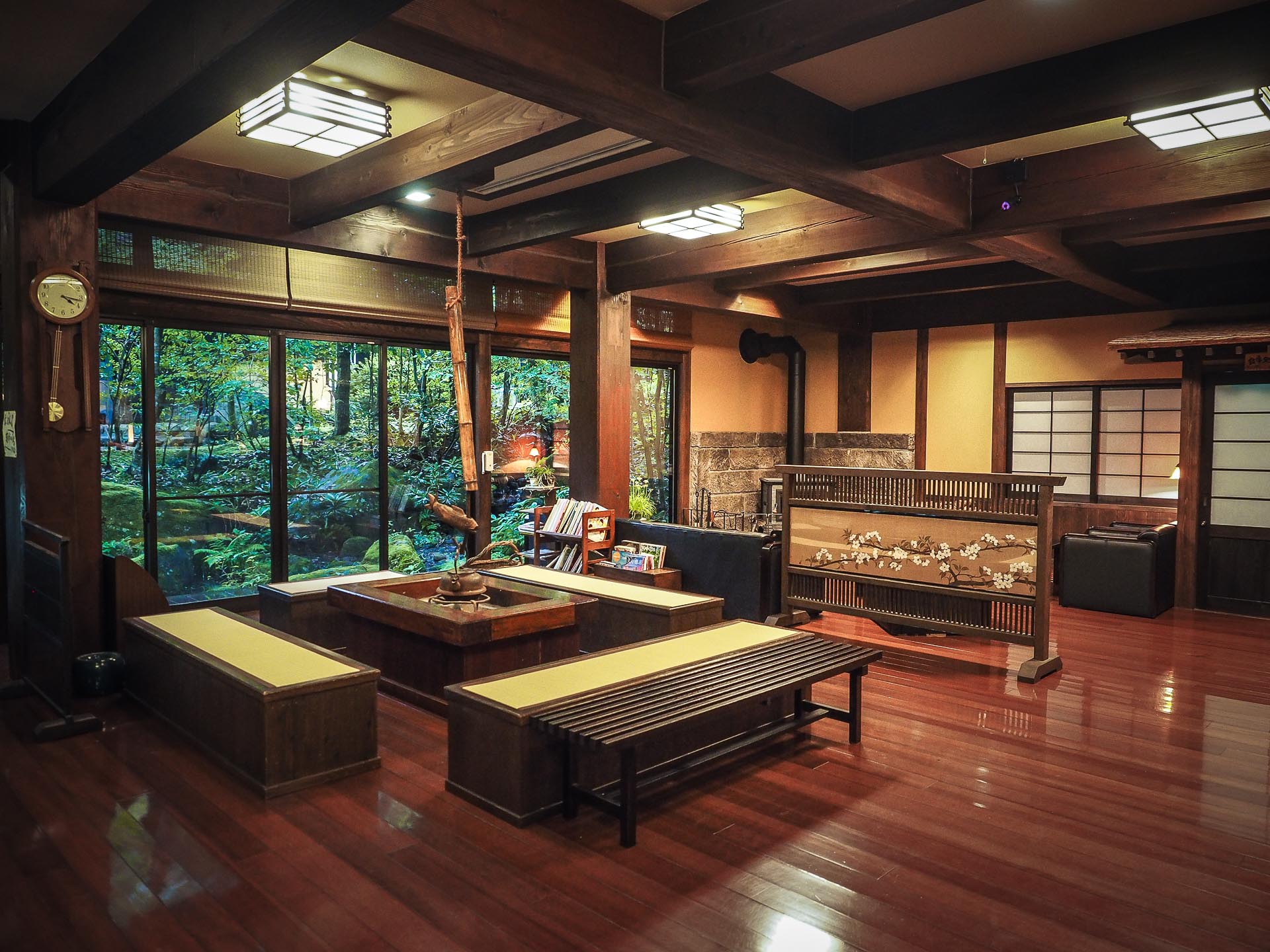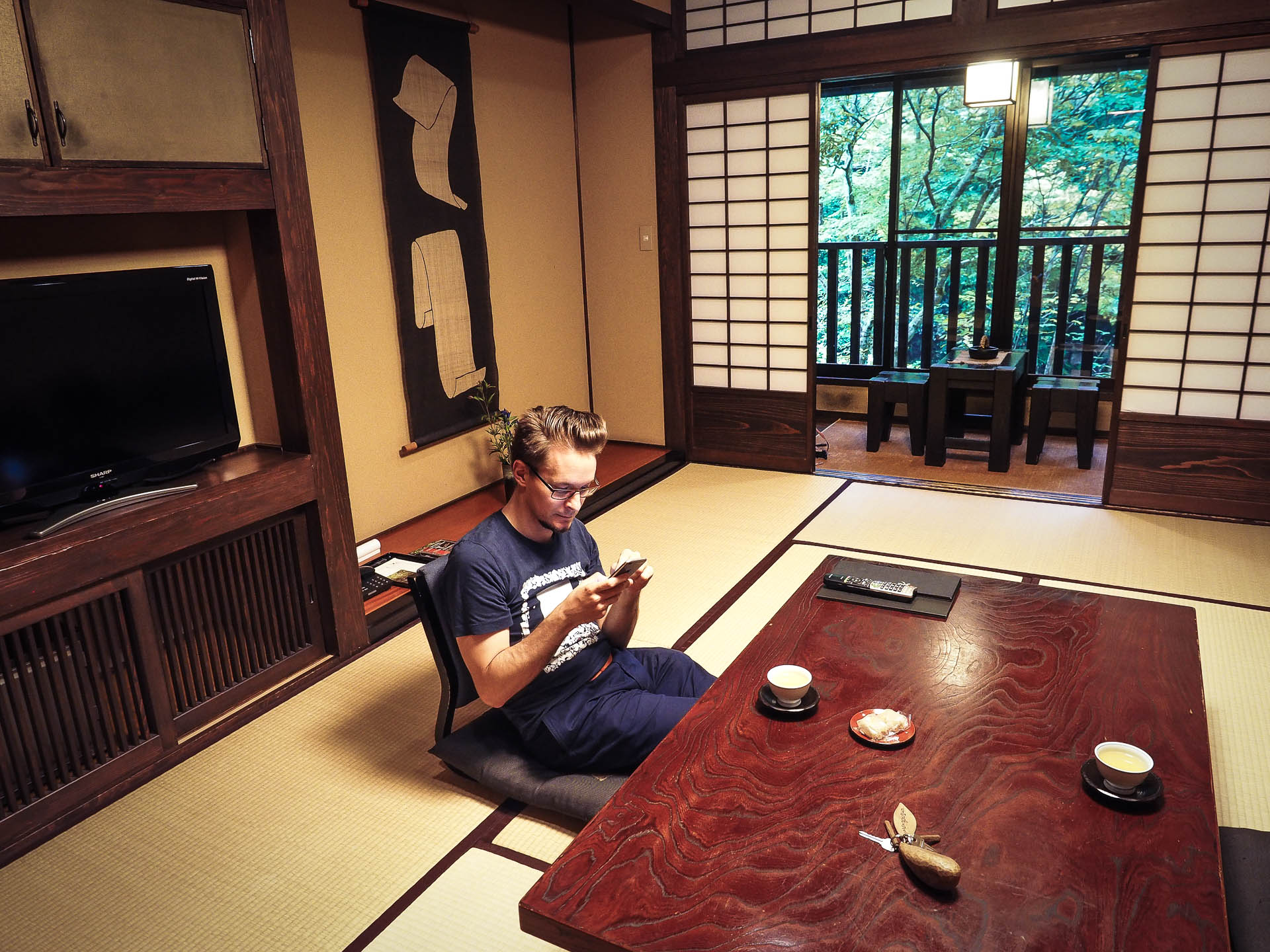 My husband thought, that the outdoor baths with outdoor showers were maybe a bit too "rural" to his taste, but I on the otherhand really loved that aspect. Luckily Ryokan Sanga has also separate indoors baths, and one of the biggest advantage for the hotel's guests are the private, reservable outdoor baths. We booked a bath called 'Rokusuyaku-oke' and it was just amazing. You get to bathe together with your spouse or family in peace, and this bath comes with a lovely view down to the river.
If I were to compare Ryokan Sanga with Yamamizuki, I'd say Sanga feels maybe a bit more down to Earth and natural for me than Yamamizuki. The experience is very similar, but Yamamizuki has a bit bigger variety of services and Ryokan Sanga is very, very Japanese and natural. Both will surely make you want to return to Kurokawa onsen again.
What's best about Ryokan Sanga:
Hot spring baths outside amongst the nature are like from a Japanese fairytale
Very natural and traditionl Japanese experience
Amazing, free-to-book private outdoor baths for hotel guests
Very traditional and interesting looking hotel premises
Located right by the river: many rooms have a river view
Some bigger, luxurious looking, detached cottage rooms available
Lovely traditional rooms
Outdoor foot bath
Very comfortable and stylish yukatas (Japanese light cotton made clothes for sleeping and hanging around at the hotel premises)
Amazing Japanese kaiseki-meals are included in the room price
Dinner is eaten in your room with personal service
Book Ryokan Sanga
Please share your best onsen experiences with me in the comments. I would love to find new gems to try out!