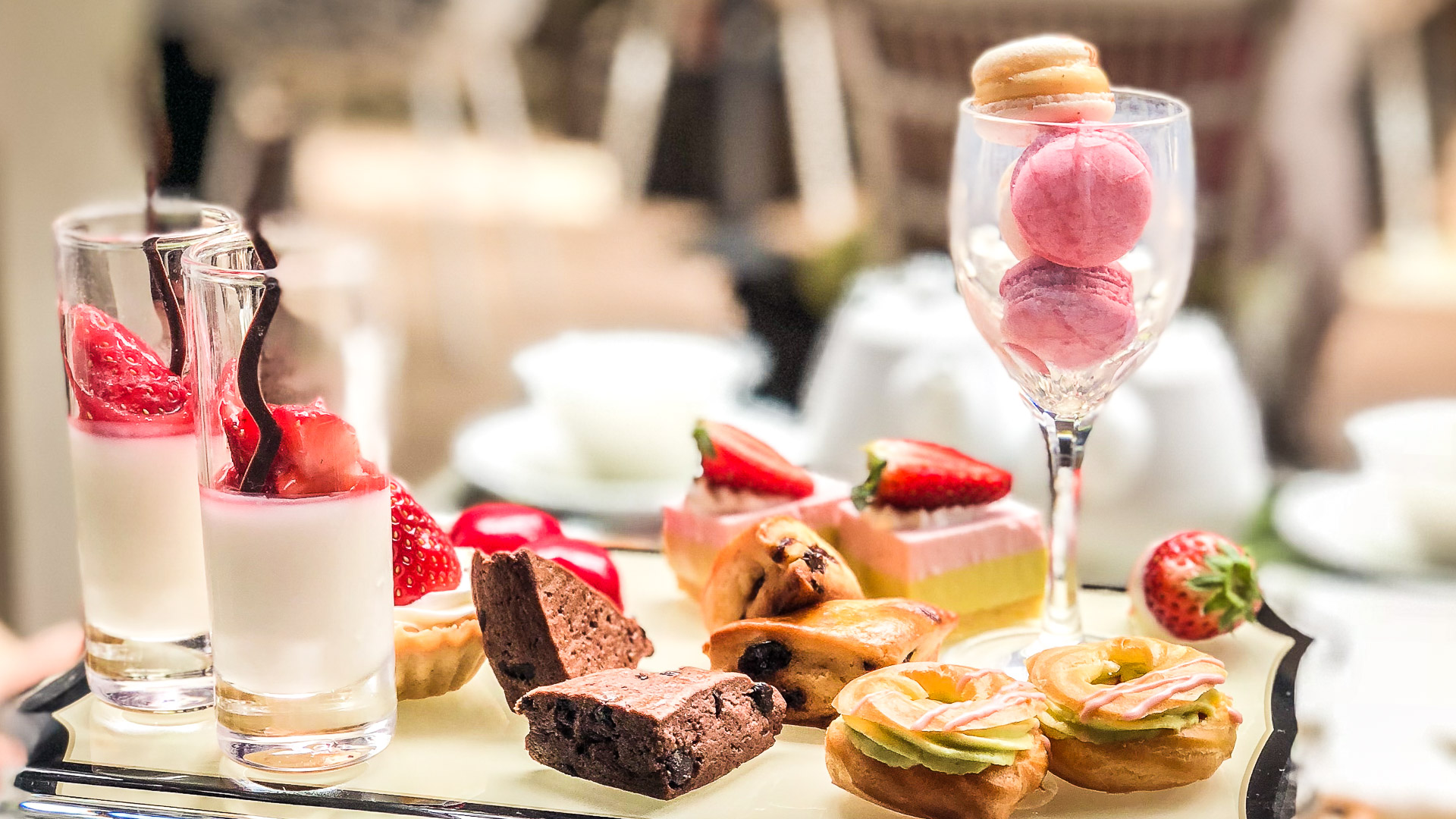 Afternoon Tea in Tokyo
Usually when I travel somewhere, the first thing I do is check what sort of great coffee shops or tea houses there are available in town. Many times I do hours of research for finding that perfect looking café for a half an hour pit stop – kind of silly, I know! But I do take great pleasure in finding and enjoying great, carefully designed concept cafés where everything from menu to interior and staff´s appearance comes together.
One of my favourite concepts in the world of tea is Afternoon Tea. Having couple of hours to properly enjoy a careefully selected tea and try variety of sweet and savoury treats. What I also enjoy about afternoon tea is the display; those multi-level trays, tiny pastries, bautiful dishes and often very fancy tea cups. What is there not to like?
For Tokyo, I've encountered dozens of great cafés, which you can find in my new book 'A Café Lover's Tokyo'. In this blog post I'll show you couple of places where to go, if you want to have a special afternoon with a cup of tea.
Afternoon Tea at Zelkova, The Strings Hotel, Omotesando
Full-course Afternoon Tea in Wonderland
I recommend especially any sweet lovers to try Zelkova's fancy, themed afternoon tea in Omotesando. It is very beautifully laid out, the café restaurant is filled with beautiful details and the treats selection varies nicely according to theme or season. I tried their Strawberry Themed Afternoon Tea that was enjoyed at the terrace in the summer time. The selection of different strawberry desserts was quite something: there were tarts, mousses, scones, cake, sandwiches, macarons and strawberry pralines. On top of that, there were also salmon topped open sandwitch, quiches, pancakes, jams, and of course amazing list of teas to choose from.
Zelkova often has couple of different Afternoon Tea Themes going on. These themes usually last couple of months. Right now they are serving cute looking cherry blossom themed Sakura Afternoon Tea at their terrace. Their very popular Instagram hit is seemingly yearly Picnic Style Afternoon tea which comes with a beautiful straw basket packed with goodies. I've seen them having also Alice in the Wonderland themed Afternoon Tea just to mention a few. The surroundings look very stylish and the staff professional.
Be sure to book your Afternoon Tea in advance. At times it might be possible to go in without a reservation if you are ready to wait, but most days especially on weekends the place is fully booked. Speciality sets such as Picnic Afternoon Tea is available for only 10 parties a day, so be sure to book that early!
What: Afternoon Tea Set with very vast and filling selection of treats and two different teas to select from a long tea menu
Special: Very beautiful interior and fun display of the treats
Price: Approximately 3500 yen per person
Location: The Strings Hotel, Omotesando, Tokyo
Book Afternoon Tea at Zelkova's website
Afternoon Tea in the Lobby Lounge of Ritz-Carlton in Roppongi Midtown
High-end Tea Time Above Tokyo 
If you like looking at the horizon of metropol city or want to see Tokyo from above while sipping great tea in style, go to Ritz-Carlton hotel's Lobby Lounge in Roppongi Midtown shopping centre. This lobby is so posh and the service so attending that it makes ordinary person such as myself feel a bit overwhelmed – in a good way, though. If you come in in the afternoon, you'll get to enjoy your tea time with live piano performance that was quite something when I visited the place. It makes one feel like in a movie or if you close your eyes, you could be in a totally different time. In the evenings you could come here for the drinks, as they also have a bar.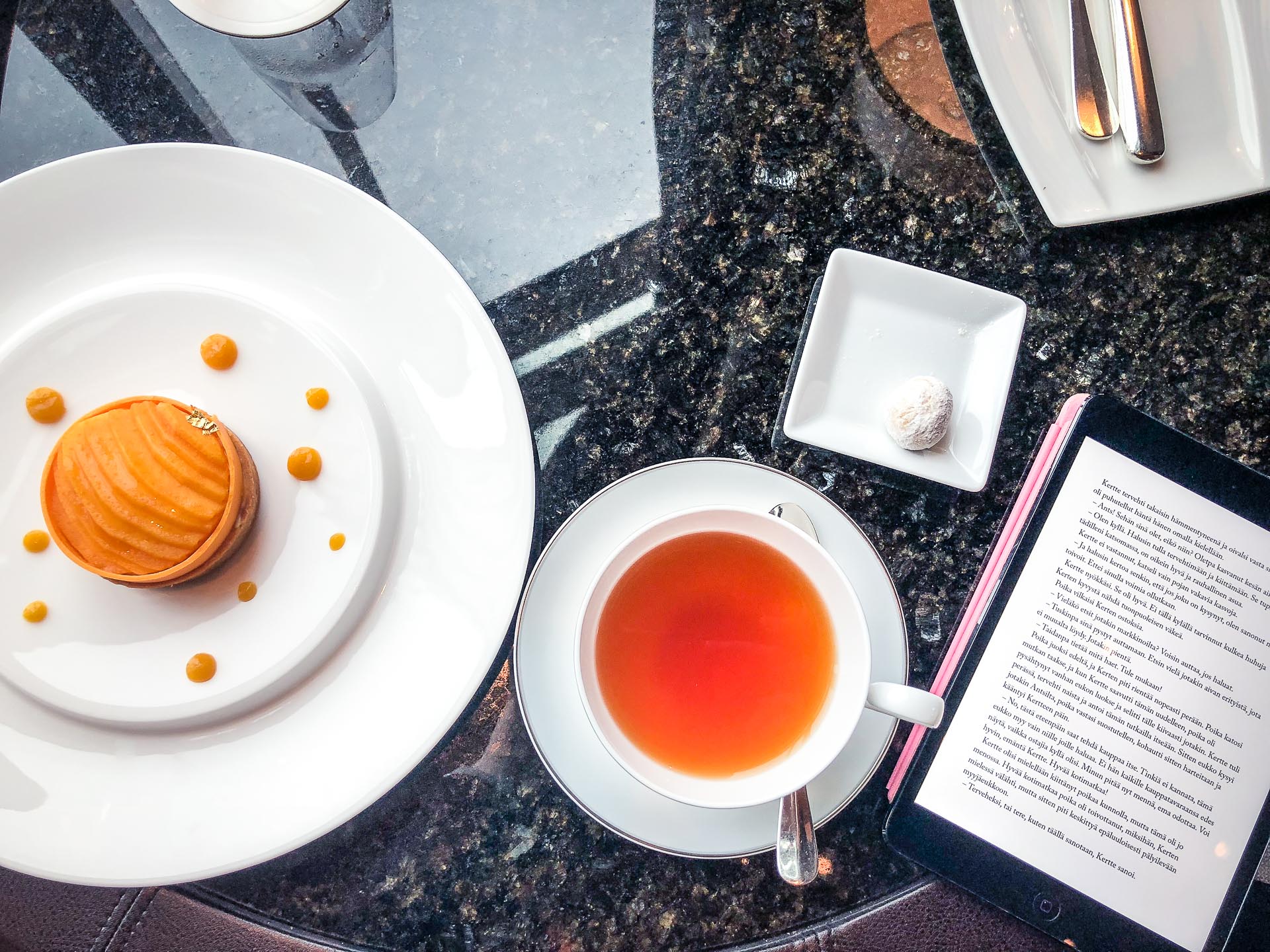 Ask for a table by the window – there are quite many available and the views from the big windows at the 45th floor are definitely worth the price of your refreshments. If you're on budget, you could come here to enjoy only one cup of tea and the price would be less than for entering some of the touristic view towers in Tokyo.
Note, that Ritz-Carlton Lobby Lounge has a dresscode of 'Casual elegance', so it is the kind of place where one feels more comfortable if you dress up a little. If you come in here with shorts and t-shirt, you will propably feel quite ackward. So take this chance to dress up and enjoy the high-end feel of the place with full heart.
What: High-end Afternoon Tea Sets or A la Carté selection with separately ordered items.
Special: The amazing views, service and live pianist performance
Price: Afternoon Tea Sets varying from approximately 4800–7350 yen per person. Single cup of tea or coffee ordered separately approximately 1600 yen. Note that there's additional table charge from 8 p.m. to 11:30 p.m.
Location: The Ritz-Carlton Hotel, Roppongi Midtown, Tokyo
See menu and hours at Ritz-Carlton's website
More tips for different kind of afternoon tea
If you would like to have afternoon tea with a personal maid or handsome butler, subscribe to Riidesign.com Newsletter and I'll let you know, when my next blog post about the Butler Cafés and Maid Cafés of Tokyo is out!
Subscribe to Newsletter