Café lover's best picks in Berlin
As you might know, I have written a guide book Café lover's Tokyo (out 2019), listing the 20 best coffee shops together with guidance about the café etiquette and Japanese customs to make travelling a bit easier. A bit like in my book for Tokyo travellers, here in this blog post I'll reveal my five favourite café finds for those of you planning a trip to the city of Berlin, in Germany.
So, if you're looking for beautiful, hip cafés to visit when you're in Berlin, look no further. These store all offer interesting atmosphere, nice decor, great coffee and delicious food for you to enjoy.
House of Small Wonder
Oranierburgen tor, Mitte
If you are a heavy Instagram user following any hipster travellers or Urban junble bloggers, you probably have seen this cafe in your feeds at some point. The Small House of Wonder is amazingly beautiful cafe and restaurant filled with potted plants and interesting decor details. From the outside the concrete building looks like nothing special, but when you enter through the doors, you're suddenly inside a totally different world: the interior of the cafe resembles a cottage in a magical forest, and all the details such as menu made in the form of a fairy book give the finishing touch to the pretty place.
In this setting, it is quite surprising to find out that the menu has actually some Japanese warm meals on it. On top of usual coffee shop drink list of lattes and cappuccinos the Small house of Wonder also serves different Japanese green teas, nice selection of desserts and for example donburi rice bowl lunches. There are also quite varied sandwich and snacks selection for you to browse through, so making your choice of meal here might be quite a challenge.
As said, this cafe really is quite famous among both locals and travellers, so be prepared to wait for a table for a really long time, even on week days. The waiter collects names for queue, so make sure to first go and talk with the staff before you go and sit downstairs to wait for your table. That way you could also go and tour nearby shops and places while you wait for your seat, if the queue is very long.
Pro tip: come alone, and you just might be able to pass the whole queue, as there're often single seats available. Groups have it tougher. You might end up waiting anything between 30 minutes to over an hour. Nice thing is, that when you finally get your seat at this beautiful café, visitors are allowed to take their time and enjoy the atmosphere without anybody hurrying your coffee moment.
Steel Vintage Bikes
Mohrenstrabe
Steel Vintage Bikes is a trendy looking, popular place near the Memorial Monument of the Murdered Jews and just a short walk away from the Checkpoint Charlie, another famous tourist attraction at the edge of old West and East Berlin. Being this close to some major sites of the city, it's no wonder that the place is often crowded, but it is still quite easy to get a table, if you're coming in with a small party, as tables tend to free quite quickly and the café is pretty big in size. Alone you can often get seated by the counter with no waiting at all.
The Steel Vintage Bikes serves pretty nice selection of vegan and vegetairan dishes including fluffy pancakes. The coffee is also good, as you'd expect from a place like this. Small patch of greenery with trees and little bushes just in front of the building makes the view from the windows pretty pleasing, leaving the city buzz somewhere behind, despite the very central location.Steel Vintage Bikes has this nice industrial vibe to it with the cool vintage bicycles hanging from the ceiling and cute plants and this interesting, kind of grungy decor. If you're up for some bike shopping, bear in mind, that the beauties hanging from the ceiling are also up for sale – with quite high price tag, that is.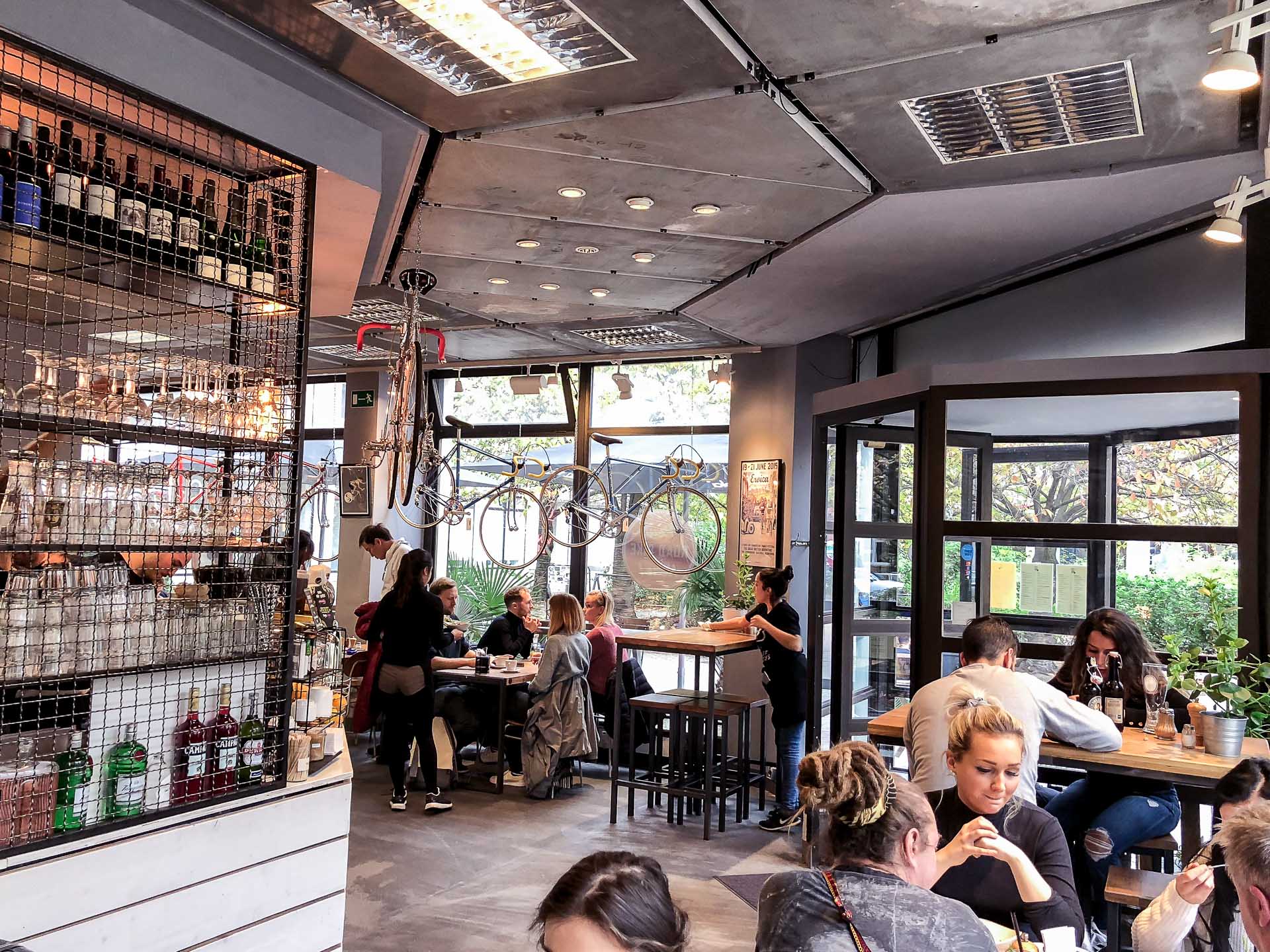 Westberlin – coffee bar and media shop
Checkpoint Charlie, Stadtmitte
Looking for a place to hang out with your laptop while zipping a delicious cup of coffee and feeling like you're just one ordinary berliner? Look no further – Cafe Westberlin is a great spot for some out of office hours, reading a magazine or chatting with a friend. Why not have a breakfast while you're at it? The café also serves refreshing snacks, pastry, cakes and tartes with a home made feel to them.
The place is especially nice for lap top workers as there's a big table with lots of power sockets available for single café goers or even small group of people. The natural light coming through the big windows from two directions makes the place quite refreshing and energizing.
Café also has this interesting selection of books for sale at the shelves on the walls, making the place very homey for any book store enthusiasts too.
19 grams
Naturkundemuseum, Mitte
19 grams is a true coffee lover's place, as the coffee here is really, really good and so is the atmosphere for enjoying it. The light coloured brick walls, natural wooden furniture and industrial styled lightning make the place really warm and homey, yet pretty hipsterrefic at the same time. The café's nice vibe is accompanied with chilled, trendy background music that makes you want to jam with it, song after another.
This coffee shop is located in the northern part of Mitte, which makes it quite nice for some shopping to be done. Also the Museum of Natural History is just around the corner – at the same time the location is maybe just that right bit off from the main shopping streets and tram lines, that gives it a tad more tranquil feel. This shop, especially if visited on a weekday, is very easy going and relaxed with no sign of business buzz of the city around it.
Pro tip: Try the 19 gram shop's blondie pastry if it's available – the cookie dough texture and maple syrup scent make this dessert a nice companion with the cup of their very nicely made coffee. The latte I had here might just be one of the best cups of coffee I've enjoyed in my life.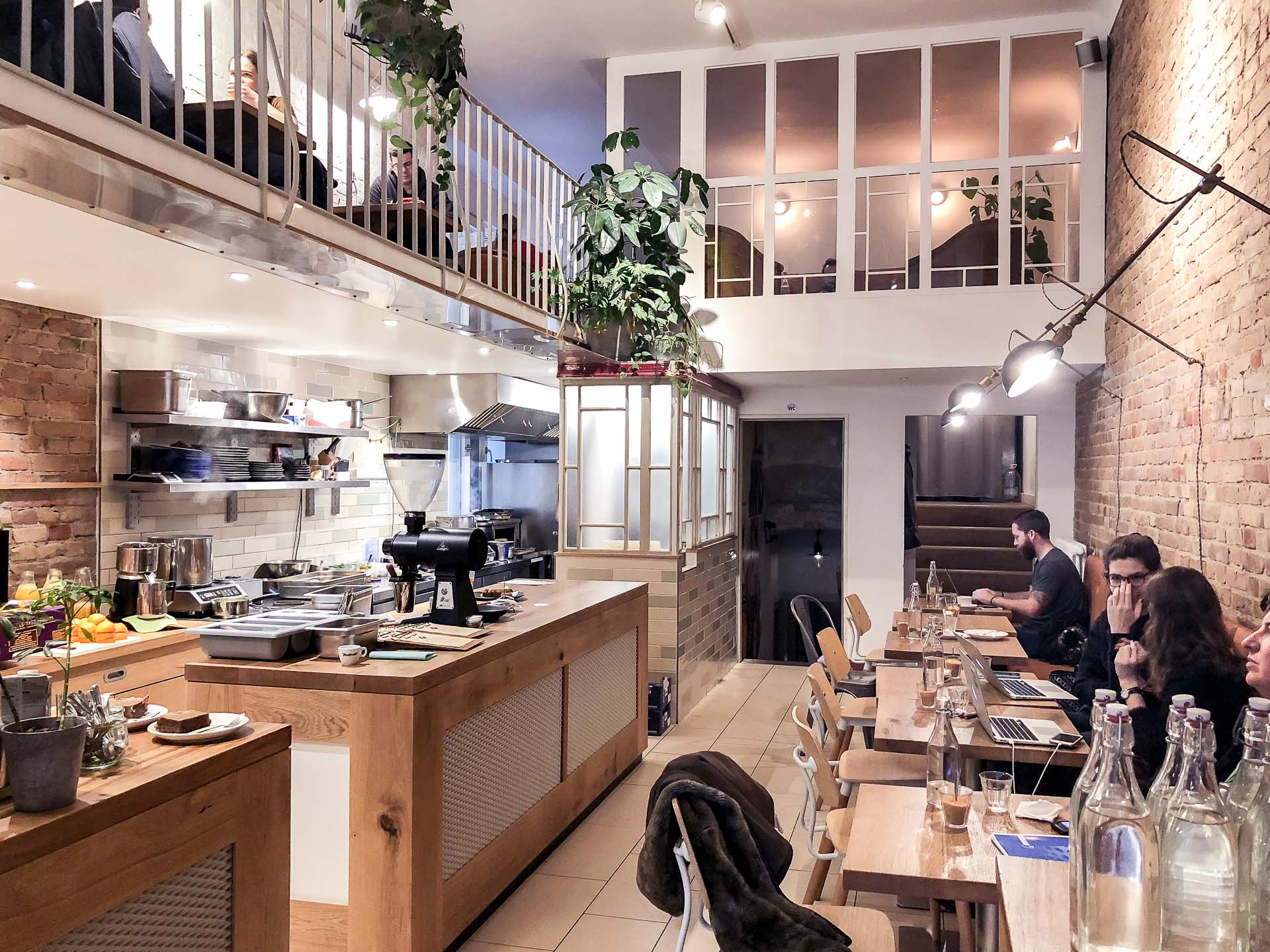 The store
Kollwitzkiez
The Store at Soho House is a beautiful café and variety store selling carefully picked individual apparel, jewellery, bags, shoes, home goods and potted plants. The industrial loft vibe of the shop can be seen in both the high ceilings and decor of the place. The café tables are scattered around the store, making it quite interesing surroundings to hang out at – you can find more quiet corners at the back of the store or stay in the middle of the happenings near the merchandise and the store counter. There are many kind of seat options from sofas to chairs, which makes the café perfect place for both friends´ get-to-gethers for vibrant conversations and working with your laptop just by yourself.
The selection of food and sweets are quite vast, varying from lunch hour´s filling options of amazing looking avocado sandwitches and salads to beautiful cakes and pastry. If you want to continue your day with drinks at a bar or even have a multi-course dinner, the restaurant of the Soho House Berlin Hotel at the same building, right next to The Store, has very interesting interior, nice evening atmosphere and good food!
Need more choice?
See these three additional gems of Berlin!
Try also these cafés in Berlin, if you can fit in – they're super popular, so it might not be easy to get a table especially during weekend, but they're not loved by people without a reason!
East & Eden
Café Cinema
THE BARN Café Coffee roasters