Amazing speciality coffee shops in Tokyo
If you're on a look out for great cup of coffee or to buy some freshly grounded beans to go, check out these small, yet amazing cafés and roasteries that are specialized in not just good but great coffee. On top of that, these places are also pleasing to the eye!
Airstream Garden
A Café inside a trailer – Omotesando
Airstream Garden café is as cute and tiny as coffee shop perhaps can be – both the brewing and drinking of that freshly made coffee happens all inside a small trailer. The vagon has just couple of tables to sit at, but trailer is parked beside a wooden veranda with more space for the patrons to enjoy their hand drip coffee or espresso affogato. That being said, it might be obvious that this is the place to visit on a nice warm day filled with sunshine, if you want to be sure you can drink your latte while sitting. The funnies thing is, that this trailer café is not located somewhere at the country side, but in central Tokyo, in the posh luxury fashion district of Omotesando. That gives the place nice contradictory vibe: it is like you're suddenly spending afternoon on somebody's backyard after you just passed a Luis Vuitton shop at Omotesando Hills.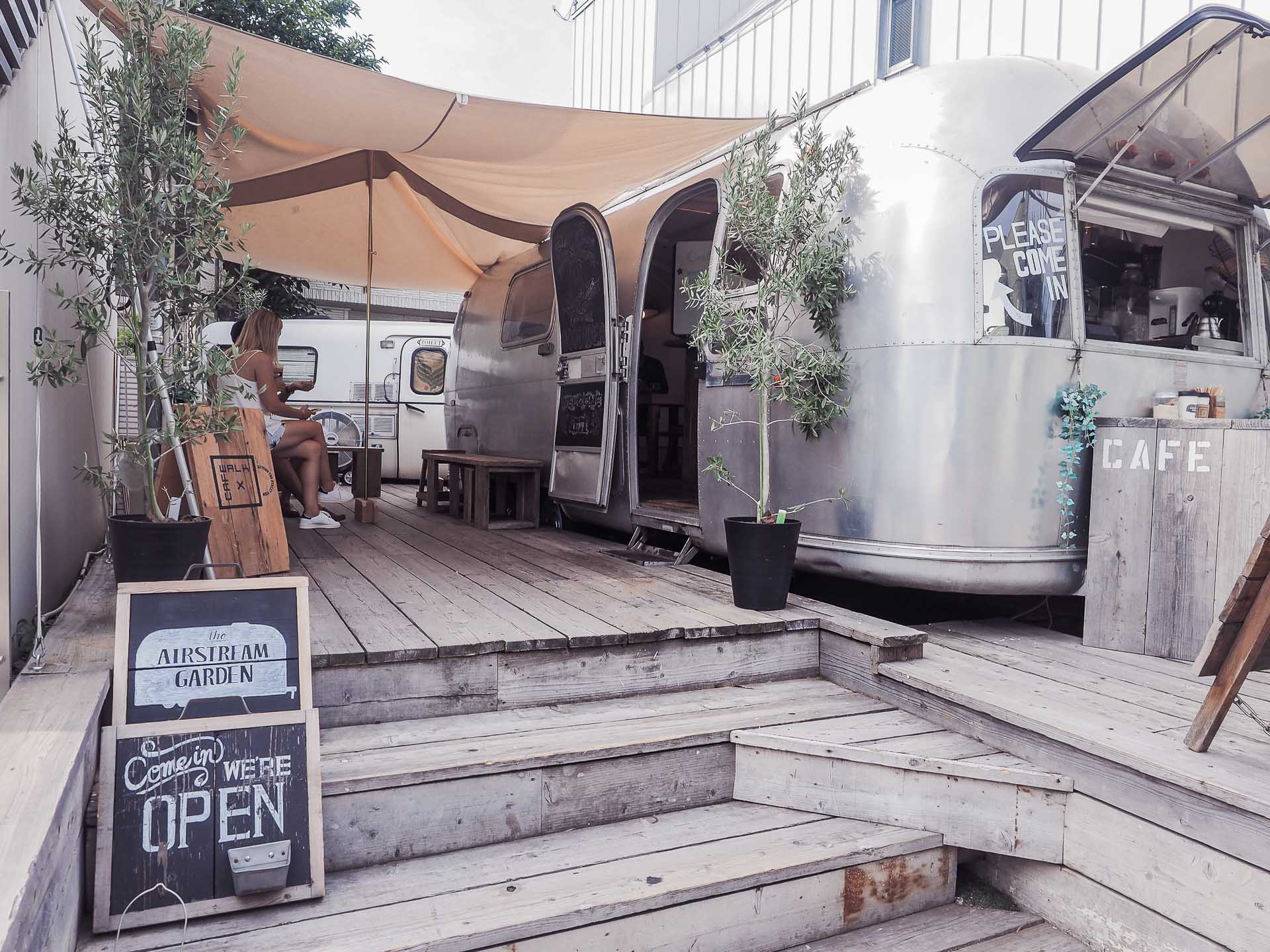 Obscura Cafe and Obscura Laboratory
A local roastery for coffee enthusiasts – Sangenjaya
This café with couple of store around Sangenjaya area stands up to its name: the counter with beautiful siphon coffee making equipment looks truly like a true coffee lover´s laboratory and the staff knows what they're doing when they carefully make your cup of espresso. The vibe here is very professional so even if you're milk coffee person, you just might want to try their coffee drinks black to enjoy the flavours fully. But don't worry: if black coffee is not your thing, you'll be sure to find your cup of coffee love by trying out for example their summer treat, espresso affogato. When you're planning to spend some time at café, pick Obscura Cafe and enjoy the bubbly siphon coffee. Were you in a hurry or want to just buy beans to go, go to the smaller, conveniently located Obscura Labratory.  There are couple other Obscura brand cafés and shops around Tokyo and also in Hiroshima.
Note to families with small children: Cafe Obscura's indoors seating space is aimed to visitors of age 10 and above, so families with small children will feel more welcome at some other shop. Try for example Cafe Mamehico Sangenjaya, which is located quite close and has quite similar service selection as Obscura.
The Deck Coffee & Pie
A café where everything comes together – Northern Harajuku
The Deck Coffee & Pie is a very inviting, beautiful café in the area between Harajuku and Kita-Sando in Sendagaya. As the café is located a bit longer walk from both Harajuku or Kita-Sando stations, the area feels  more tranquil and easy-going than for example the busy and popular Harajuku or Omotesando shopping areas.
The café has this crafty, homey vibe which is created with careful interior design and paying attention to the details. Both the exterior and interior have lots of warm wood combined with dark, kind of industrial looking modern decor details, that make the place suit also any Instagram photographers' taste.
And the coffee – well, of course they got to have good coffee. I enjoyed one of the best ice lattes here, but the as the name suggests, the café also serves delicious pies. Toss in a fresh salad plate, and you've got a nice light lunch!
The place has got pretty nice amount of seats both inside and on the terrace, so even though the place can get quite crowded, it's pretty easy to get seated here.
Pro tip: This café is located a nice walk away from the multiple different sports stadiums such as Meiji Jingu Stadium and Japan National Stadium a.k.a Olympic stadium, so keep this in mind, if you're planning to visit Tokyo during Tokyo Olympic games in 2020.
Your suggestions?
Have you got roastery suggestions in Tokyo for me? Please leave a note about your favourite speciality coffee shops in the comments section belove, and I'll have something to look forward to during my next Tokyo trip aswell!